Content Sections

About the Awards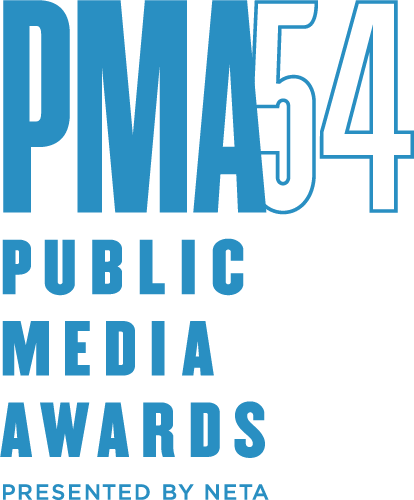 The Public Media Awards presented by NETA honor our member's work in the highest caliber programming, education, marketing and engagement. A mosaic of relevant content that reflects both creativity and diversity that paint rich stories of truth and consequence. Piece by piece and member by member, we come together as choreographers of the public good, to spark more imagination and inspiration than we ever could have alone.
Join us at the annual NETA Conference when we celebrate the finest work in public media and announce the winners during the 54th Annual Public Media Awards Gala on September 18, 2022. 
Important PMA54 Dates:
Early Bird Registration: June 13 - July 31, 2022 | $60
Regular Registration: August 1 - 12, 2022 | $80
Eligibility Period: July 1, 2021 - June 30, 2022

Division 1 – Stations with NFFS over $4M* 
Division 2 – Stations with NFFS under $4M* 
  *Station size based on FY2019 SABS report
Questions: email awards@netaonline.org or contact Tim Eernisse at 803-978-1597.
$60 per early bird entry. June 13 - July 31, 2022.  
$80 per entry. August 1 - 12, 2022.  
VISA or MasterCard accepted.
No checks or purchase orders 
No refunds 
Entries can be withdrawn from the competition, but the entry fee will not be refunded
For entries of six (6) or more, stations will receive a 10% discount on fees for those entries. All entries must be entered by the same individual to qualify for the discount.
To be eligible you must be a NETA Member*. Entries must have been created, produced, published or broadcast between July 1, 2021 and June 30, 2022.
Unlimited number of entries for eligible projects
Eligible projects may be entered into multiple categories
Any number of entries in any category may be submitted
*Independent producers may enter into the "Independent Production" categories ONLY
Award applications are open. Submit entries by July 31, 2022 for the $60 early bird discount. Entries are $80 beginning August 1, 2022.
Finalists will be notified via station General Managers and announced to the public on September 18.
Here's what to include with each of your Public Media Award entries
Category 
Entry Name 
A short narrative about your entry (500 words or less) 
Did you measure reach or impact? 
Share your reach or impact results 
Station name/call letters
Airdate/event date
Team information 
Attachments relevant to your project or measured impact