Content Sections

About the Awards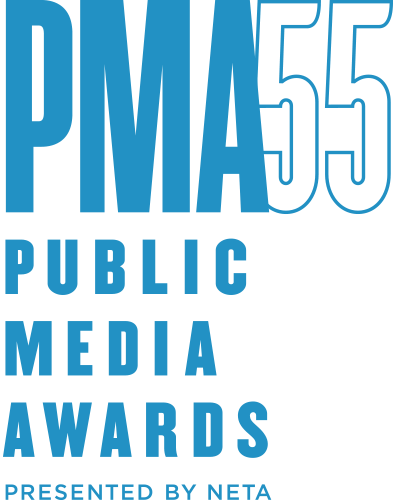 The Public Media Awards presented by NETA honor our member's work in the highest caliber content, education, marketing, and engagement. A mosaic of relevant content that reflects both creativity and diversity that paint rich stories of truth and consequence. Piece by piece and member by member, we come together as choreographers of the public good, to spark more imagination, and inspiration than we ever could have alone.
Congratulations to all the winners! Winners were announced at the 2023 conference on Sunday, September 10, 2023.
The Award Winners Gallery is open. Browse the gallery for inspiration. 
Show off your well-earned bling! 

Each winning station will be receiving a 55th Public Media Award trophy, shipped directly to the station.
Personal trophies can be ordered if you would like to have one in your office, home, or wherever you'd like! Each additional trophy is an investment of $120 and includes shipping. Trophies will be a replica of the station trophy.

Public Media Awards photos are available for downloading and sharing.
Download the PMA55 station assets for logos, backgrounds, and trophy image. 
Questions: email awards@netaonline.org or contact Tim Eernisse at 803.978.1597.
Award applications are closed for 2023. 
VISA or MasterCard accepted.
No checks or purchase orders 
No refunds 
Entries can be withdrawn from the competition, but the entry fee will not be refunded
For entries of six (6) or more, stations will receive a 10% discount on fees for those entries. All entries must be entered by the same individual to qualify for the discount.
To be eligible you must be a NETA Member*. Entries must have been created, produced, published or broadcast between July 1, 2022 and June 30, 2023.
Unlimited number of entries for eligible projects
Eligible projects may be entered into multiple categories
Any number of entries in any category may be submitted
*Independent producers may enter into the "Independent Production" categories ONLY
Award applications are closed for 2023.
Finalists will be notified via station General Managers and winners will be announced to the public on September 10.
Here's what to include with each of your Public Media Award entries
Category 
Entry Name 
A short narrative about your entry (500 words or less) 
Did you measure reach or impact? 
Share your reach or impact results 
Station name/call letters
Air date/event date
Team information 
Attachments relevant to your project or measured impact